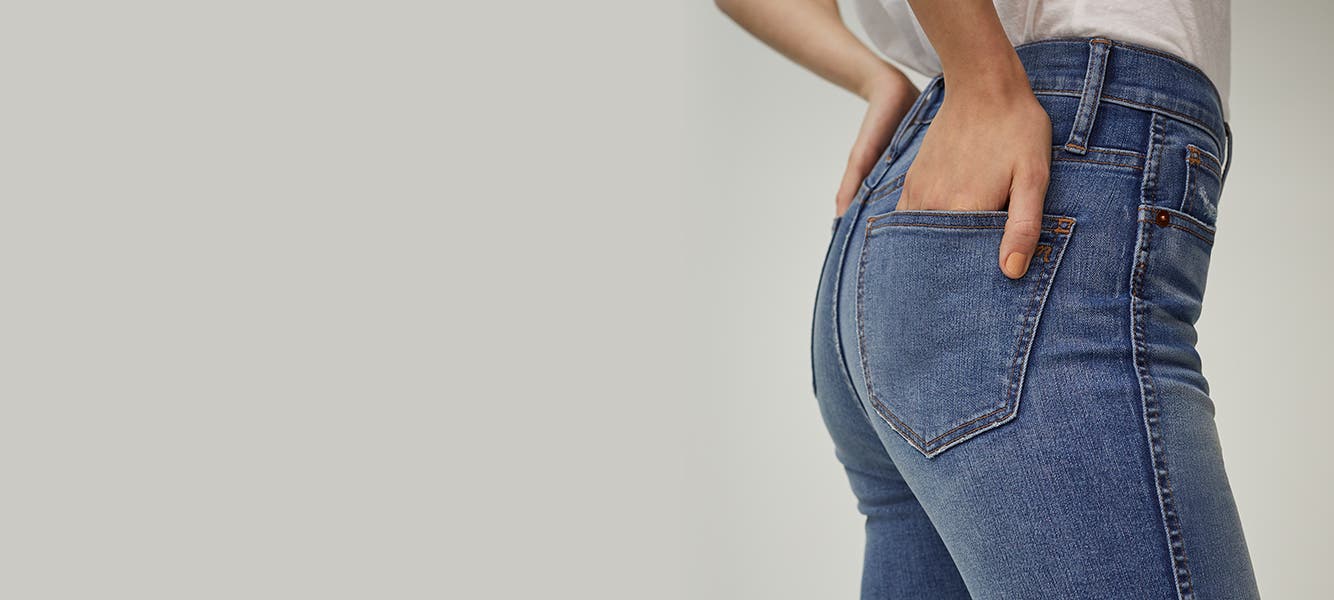 Women's Jeans Fit Guide
Jeans are a wardrobe mainstay, and there are tons of options to consider when choosing a new pair. But lots of options means lots of decisions to make, and sometimes those choices can be overwhelming. Enter our denim experts! These aficionados cover all types of jeans, share their favorite styles and fits and offer tips on how to find the best-fitting jeans for your body type. Their insider advice will have you shopping for jeans like a pro in no time.
Types of Jean Fits
Skinny, straight and boyfriend—discover the many types of jean fits for women. Plus, learn how to style these silhouettes and where to wear them.
Skinny Fit
We love women's skinny jeans for their universal appeal—anyone can wear them. Plus, the silhouette pairs effortlessly with so many styles of shoes and tops and can be worn for both work and play. If you're looking for a slimming effect, go for a dark wash. Interested in a more fashion-forward pair? A deconstructed style adds a little edge.
Straight Fit
There are two primary types of women's straight jeans: fashion and classic. If you're looking for denim that stands out, a fashion-focused style is for you. We love a pair with unique front-and-center seams or a vintage-inspired fit designed to show off your curves. If you prefer a more streamlined style, go for a classic silhouette. Its clean lines make it easy to take from day to night—just swap out sneakers for stilettos and you're set for a dinner out with the girls or a date night with someone special.
Relaxed Fit (Boyfriend Jeans)
Concerned that relaxed jeans are too casual to wear regularly? We're here to convince you that they can be very versatile. Once you've found a pair of women's boyfriend jeans you like, there are two tricks to keeping the look polished and feminine: cuff or roll the hems to show off your ankles, and buy true to your size. Relaxed-fit jeans have that broken-in feeling built right in, so stick to your size for the best fit. Pair with heels or flats, a blouse or a tee—the possibilities are endless!
Choosing the Length of Your Jeans
Determining your ideal jean length can be tricky, but our expert is here to guide you. Whether you've got legs for days or a more petite frame, we've got the right length for you. Learn how to take your inseam measurement, and then use that information to find your perfect length.
Cropped Jeans
Women's cropped jeans feature an inseam of 26" or shorter and typically stop about one to two inches above your ankle. Wear with heeled booties to give your look lift and to show off your ankles.
Ankle Jeans
Women's ankle jeans feature an inseam that measures 27"-29" and typically fall right at the ankle or just above. They're super versatile and easy to pair with just about any style of shoe.
Regular-Length Jeans
Women's regular-length jeans feature an inseam that measures 30"-31" and, depending on your height, will fall between your ankle and the ground when you're barefoot. This is the pair to wear if you prefer your jeans to cover part of your shoe and ankle.
Tall Jeans
Women's tall jeans feature an inseam of 32" or longer. The length is perfect for tall women—of course—and for women looking to elongate their legs and add a little height. To achieve the latter, pair jeans with a towering heel or high wedge.
Finding the Perfect Jean Rise
The measurement of your jeans' rise (front and back) affects the fit and overall look of your denim. Low, mid, high and ultrahigh—discover which rise of jeans is right for you.
Low Rise
Women's low-rise jeans feature a 5"-8" rise and typically land a few inches below your bellybutton. This rise is ideal for those with shorter torsos—there isn't as much fabric, so they're more comfortable for this body type.
Mid Rise
Women's mid-rise jeans measure 8"-9" and will hit right at your hips, about an inch below your bellybutton.
High Rise
The most flattering rise! Depending on your torso, women's high-rise jeans will sit right at your bellybutton or just below. Measuring 9.5"-10.5", the rise defines your waist and gives the illusion of longer legs.
Ultrahigh Rise
This rise delivers the same benefits as a high rise but measures just a touch higher at 11"-12" and hits right above your bellybutton.
How to Measure Jeans
Our favorite tip for buying jeans online: grab a pair from your closet and use its measurements as a reference! Measure the inseam, leg opening, hips and rise (to determine where you'd like the jeans to fall in relation to your hips and waist), and then consult our online size guide to find the perfect jeans from the comfort of your home.
How to Measure Inseam
Measure from the bottom of the crotch seam to the bottom of the hem along the inside seam.
How to Measure Leg Opening
Measure the circumference of the opening at the hem of the leg.
How to Measure Hip Size
Wrap the measuring tape around the fullest part of your hips and rear.
How to Measure Rise
For the front rise, place your tape at the top of the inseam and measure the distance to the top of the waistband via the front of the jeans. For the back rise, place your tape at the top of the inseam again, but this time, measure the distance to the top of the waistband via the back of the jeans.
How to Pick the Best Jeans for Curvy Women
We've got three tips for choosing the best-fitting jeans for your body type.
1. Choose a High Rise
The most comfortable and flattering rise, it hugs curves and conceals a muffin top.
2. Look for Stretch
Stretch denim contours, accentuates curves and moves with you. Look for fabrics like elastane, spandex and polyester. Steer clear of jeans made from 100% cotton and styles described as "rigid"—these won't stretch, aren't very forgiving and generally require sizing up.
3. Pick a Contoured Waistband
If a pair of jeans has a contoured waistband, it means that the back of the jeans is higher than the front. This design feature keeps your backside covered—like when you sit down or bend over to pick something up. If you notice a gap between your back and waistband, try going down one size.