Don't let dipping temps chill your exercise routine. Here are our tips for running in cold weather.
By Jessica Wilson
Are you a hardcore athlete working to keep in condition through the colder months? A casual runner who's not so sure what to wear running when the ground is icy? Or just antsy with midwinter cabin fever? Don't resign yourself to the monotony of the treadmill—take a little care in selecting cold weather running gear and you can pound out the miles in brisk temperatures without losing steam (or feeling in your fingertips).
The most important tips for winter running
Layer on the layers. Your body heat will warm up the air pockets trapped between multiple layers of clothing, insulating you better than a single, thicker layer would alone. Plus, layers let you customize. Feeling cold? Pull a hat out of your pocket. Getting warm? Unzip or peel off a vest. The intensity of your workout, your own baseline body temp, how much you tend to sweat, even your gender (women typically feel colder than men) will impact your layering sweet spot. Experiment to find out what works for you.

If the weather is fine, dress as if it were 5°-10°F warmer than it is. You're going to heat up once you start moving, and if you over-layer, you're just going to get hot and sweaty—which could make you colder. When sweat freezes, the risk of hypothermia is real.
If it's rainy or windy, add an extra layer. Wind and rain have a way of cutting through clothes and chilling you quickly. If you know you're heading into the wind, dress as if it were 5°-10°F colder. Try to run into the wind during the first part of your run: get the hard part done, then turn around and let the wind at your back help carry you home.

Wear reflective clothing. Whatever the weather, winter evenings get dark early. Make sure drivers can see you coming. Look for gear with LED lights or real reflective details—the kind that show up in headlights. A brightly colored jacket that's not reflective isn't any help in the dark.
Read on for head-to-toe gearing-up guidelines, including extra tips for running in the rain and snow. Then peruse our full selection of women's running activewear and men's running activewear to find the perfect running clothes for your winter runs so you can optimize your training and hit the spring races in peak performance.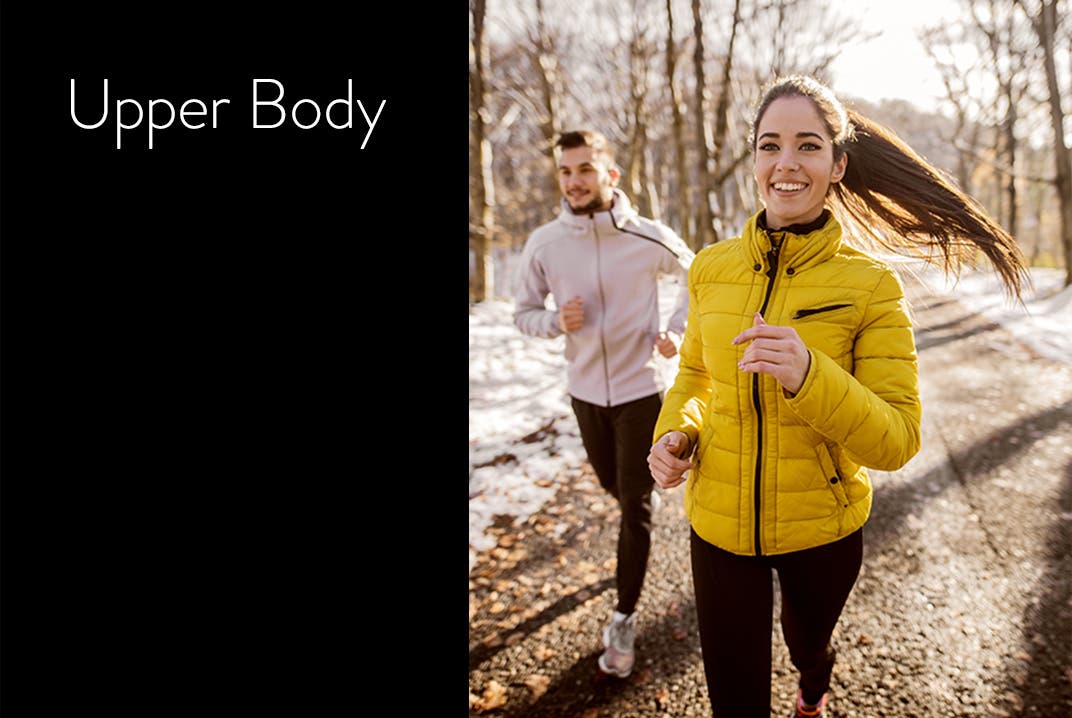 For temperatures above freezing, two layers will probably be enough to keep your core warm: a moisture-wicking shirt and a lightweight jacket.
If it's below 20°F, consider adding a mid-layer—an extra shirt between the base layer and jacket—for added protection and insulation. Windproof vests make great mid-layers: they keep your core warm but vent easily so you don't overheat.
Choosing a shirt
Always …
• Look for a midweight or heavyweight base-layer shirt with long sleeves.
• You want something that'll wick moisture away from your skin and dry quickly, drawing body heat away from your core while protecting you from cold and wet.
• Whatever you do, avoid cotton, which loses insulating properties when wet.

Some good materials
• Merino wool offers both warmth and natural odor-resistant properties.
• Plenty of synthetics offer high-performance warmth.
• Some good midweight synthetics: Thinsulate, Thermax, CoolMax and polypropylene.
• Some good heavyweight synthetics: Polartec, polyester fleece, microfleece and Capilene.

Extra tip: Tuck your shirt into your pants so no cold air sneaks in around your core.
Choosing a jacket
Always …
Half- and full-zip jackets are great for easy temp control—unzip when you're cranking up the intensity, zip up on downhills and cooldowns.

Running on dry days
Look for a lightweight, breathable soft shell.

Running in the rain, sleet or snow
• Look for a wind- and water-resistant shell to protect you from the elements.
• Keep in mind that waterproof jackets tend to trap sweat, so you'll probably still end up a little damp—but you'll be a lot more comfortable.
• Add on a hat or hood to help keep the rain out of your eyes.

Running in temps below freezing
• Look for jackets specifically designed for cold weather—they tend to be thicker, with added core insulation.
• It's essential to make sure your jacket is windproof.
• Hooded jackets are best, in case unexpected rain or snow hits.

Some good materials
Gore-Tex, Dyneema, PrimaLoft, nylon, Supplex and Windstopper.
Choosing gloves or running mittens
Always …
Make sure your gloves are waterproof and moisture wicking—these are the primary hallmarks that distinguish running gloves from other kinds of gloves.

Can't put down that phone?
Look for gloves with touchscreen-friendly fingertips.

Running in temps above freezing
• Look for wind-resistant gloves in a thin to medium thickness.
• You can always keep them in a pocket if you don't need them.
• Note: Some running tops have thumbhole cuffs or embedded mitts. These might be enough to keep your hands warm on less frigid days.

Running in temps below freezing
• Go for insulated running liners or gloves—you need to protect your hands.
• Double up on gloves if it's really cold.
• Try mittens and let your fingers share body heat.
Choosing a hat, beanie, headband or earmuffs
Always …
Keep that noggin covered! As your grandma might have told you, we lose 10% of our body heat through our heads. (Plus, cold ears are uncomfortable.) The right head covering can help prevent frostbite, windburn, chapped skin and chapped lips. It's easy enough to pull off a hat if you decide you don't want it.

Running in temps above freezing
• Stick with a lightweight hat or headband. It'll keep you warm without making your entire head sweat.

Running in temps below freezing
• Try a fleece headband, fleece beanie or wool hat.
• Go full ski mask if the wind chill is below 10°F.
• Still cold? Think about adding a neck gaiter—a soft, warm fabric tube that can be pulled up over your nose or mouth or even all the way over the head like a balaclava or ski mask.

Sunny or snowy?
Add sunglasses: glare on snow can be fierce.

Extra tips
• Lip balm, sunscreen or petroleum jelly on cheeks can prevent windburn.
• Add a brimmed hat or hood if there's a risk of precipitation.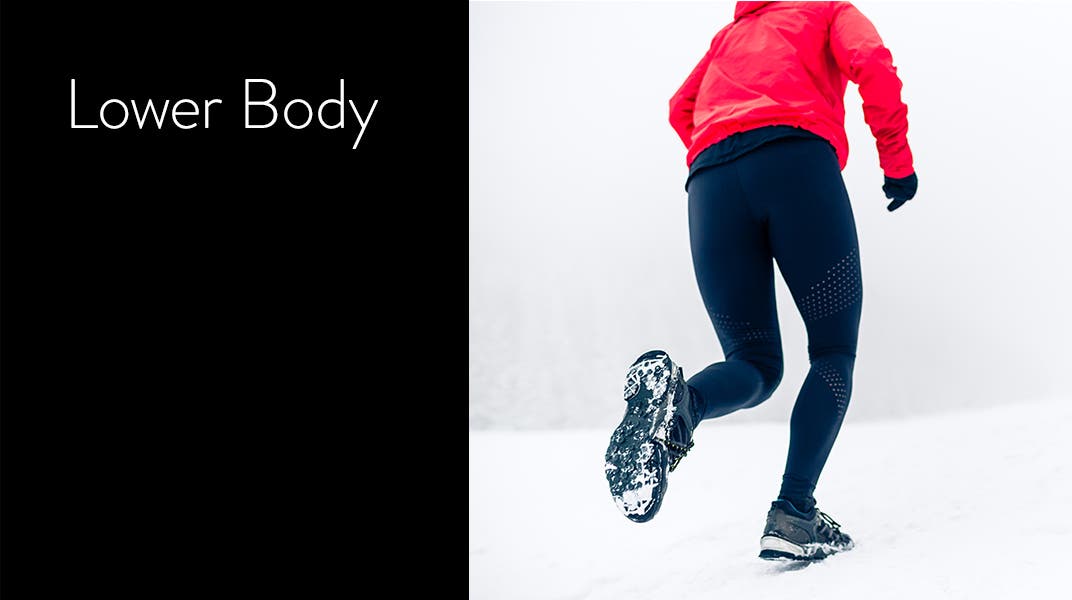 Legs generate lots of heat, so you might find you need fewer layers for your lower body than for your upper. Still, pay attention to what works best for you.
Choosing running pants or tights
Always …
As with your base-layer top, look for something midweight or heavyweight and make sure it's moisture wicking.

Running in temps above freezing
• One good pair of running pants, such as Zella leggings, will probably be enough.
• Three-quarter-length tights might offer enough coverage. Pairing them with tall socks offers plenty of versatility.
Running in temps below freezing
• Go for thick, thermal running pants or tights—possibly fleece-lined.
• If it's really cold—below 10°F—consider doubling up on tights or throwing windproof track pants on over your tights.
• Note: Wind- and water-resistant tights might have a nylon outer liner already.
Choosing socks
Always …
Look for socks specifically designed for running: they're engineered to help prevent blisters and irritation; keep you dry, cushioned and protected; and possibly offer compression and arch support.

Material concerns
• Choose socks made from merino wool or tech fabric—NEVER cotton, which gets cold and soggy and increases the risk of blisters.
• Make sure they're moisture wicking.
• The thicker, the warmer. Start thin if it's above freezing, but don't be afraid to go heavy duty on frigid days.

Running in temps below freezing or in wet weather
• Make sure your socks are high enough on your ankles to cover the gap between tights and shoes.

Running in soft snow, rain or melting ice
• Think about adding short running gaiters for an extra layer of ankle protection.
Choosing shoes
Always …
Consider swapping out your usual sneaks for a pair specifically made for winter running: they'll be waterproof, warmer and will offer improved traction to keep you stable on lingering snow and ice.

Limit slipups
• If you stick with your standard trainers, consider adding a traction device. These are typically made with coiled wire or steel spikes and will help keep you from slipping.
• Go for a shoe with as little mesh as possible—that's where water gets in.

Running in temps below freezing or in wet weather
• Look for shoes that are gaiter compatible.
• You might want to go up a half size in shoes if you expect to be wearing them with thick socks.