Women's Sunglasses Fit Guide
Face Shapes
Find the best styles to flatter your face.
Size
If you have a pair of glasses that fits you perfectly, take the dimensions and use them to ensure that your new glasses will fit just as well. The measurements are often written as three consecutive numbers on the arm: Bridge Width, Lens Width, Temple Length. If you can't find the measurements on the arm, it's easy to measure them yourself. (Remember to measure in millimeters!)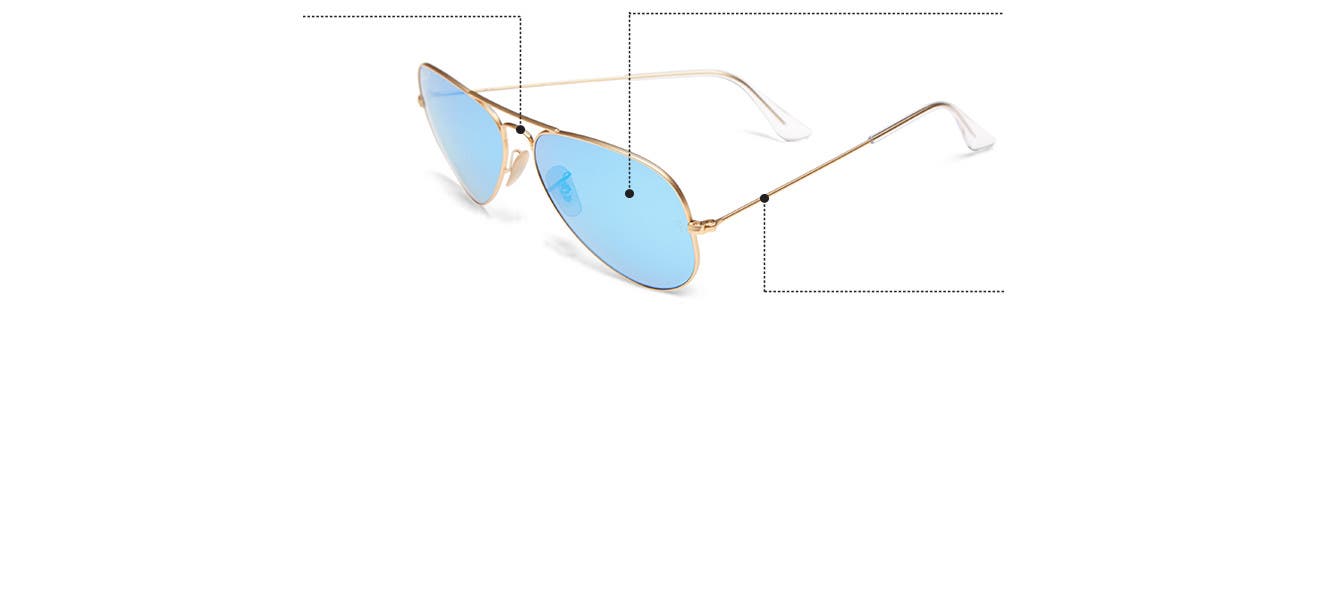 Bridge Width:
A crucial component of fit, the bridge width measures the distance between the lenses and determines how the glasses will rest on your nose. Smaller measurements suit narrower bridges, while larger measurements suit broader bridges. Average range: approximately 14mm-24mm.
Lens Width:
The lens width is taken from the outermost edge of a single lens to its inside edge. This measurement helps indicate how the glasses will look on your face. Average range: approximately 40mm-62mm.
Temple (or Arm) Length:
The length of each temple is taken from the tip of the arm to the hinge that connects to the lenses. Average range: approximately 120mm-150mm.
Lens Treatments
Keep in mind that darker lenses do not equal higher ultraviolet (UV) protection, so look for lens treatments and colors that best suit your needs. 
UV Protection:  
Shields eyes from damaging UV rays. Without proper protection, your eyes can absorb UV rays, which can eventually cause premature aging and eye-related health problems. 
Polarized:  
Blocks glare while enhancing clarity, color and depth perception. Ideal for all outdoor activities, especially water and snow sports.
Mirrored:  
Reflective coating absorbs light, reduces glare and hides your eyes from the paparazzi.
Gradient:  
Fades from a darker tint to a lighter tint, allowing for comfortable vision over a wide range of distances and lighting conditions.
Lens Colors
Different lens colors make your eyes react differently to varying light. Find out which colors work best for your favorite activities and conditions.
Grey:
Reduces glare and shows true colors. Ideal for everyday use, especially driving and outdoor activities.
Brown:
Improves contrast and contains a red element to enhance depth perception. Perfect for golf, tennis, boating or any sport where you need to judge distance.
Yellow:
Enhances contrast, providing greater clarity in low-light conditions. A great choice for skiing and mountain biking, but not so great for anything that requires accurate color perception.
Green:
Transmits all colors evenly, so it's close to natural eyesight. Good for general-purpose use and all outdoor activities.
Pink & Red:
Enhances visual depth and reduces eyestrain. Because they provide a contrast against blue or green backgrounds, they're ideal for water sports.