A winter wedding in their home state of Minnesota was everything this couple could have hoped for.
By Tessa Trudeau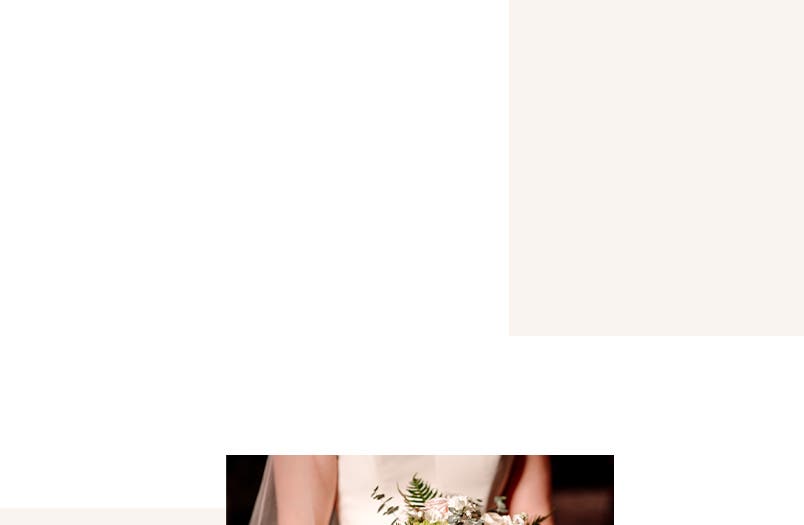 Some people dream of a summer wedding, but Katie Devlaminck and her groom, Dan Krisch, knew they wanted to wed in the winter. A February ceremony in their home state of Minnesota was the perfect start to their fairytale ending, and from proposal to "I do," the newlyweds had the support and love of their friends and family. The bride tells us about wedding planning, the most meaningful moments from their special day, how she found her dress and which accessory she based the entire look upon.
When and where were you married?
February 16, 2019, at Loews Minneapolis Hotel in Minneapolis, Minnesota.
How did you choose your venue?
We're both from Minnesota and knew we wanted to get married here but we also had a lot of family and friends traveling in from out of town. We were asking people to come to Minnesota in February so we chose the Loews where everything—accommodations, hair and makeup, ceremony, reception, morning-after breakfast—could be under one roof and people wouldn't have to go outside unless they wanted to.
Tell us about your color scheme.
When I was trying on dresses, personal stylist Laurie Dyess pulled out a blush-colored faux-fur wrap to help winterize some of the dresses. I fell in love with the wrap right away and we worked backwards from there—I picked a dress that looked great with the wrap. Dan and the wedding party wore navy to complement the blush color, and our flowers were mostly green and white with a few pale pink ones sprinkled throughout.
Tell us about your favorite moment.
Dan and I are lucky to have so many fabulous aunts and a lot of them pitched in for the wedding. Dan's aunts hosted a lovely couple's shower for us for which they wrote and performed some hilarious song-and-dance numbers, and some of my aunts hosted dinners and a ladies luncheon during the week of the wedding. Some of my aunts came to Nordstrom to try on dresses, another one made my veil, and yet another one loaned me the blue garter from her 1956 wedding to be my "something old, borrowed and blue." One of Dan's aunts designed the beautiful centerpieces for all of our reception tables and managed an assembly line of family members on the day of the wedding to put them all together.

What was the most memorable part of the wedding?
The kids at our wedding really made it a great party. When you get married in your thirties, a lot of your friends and cousins have kids. Dan and I decided to embrace it and invite all of them, especially because neither of us likes being the center of attention. Some people left their kiddos at home, but we ended up with more than 50 kids running around all night. The chaos and chatter throughout the ceremony and reception made everything feel relaxed and fun, and the kids all really brought their A-game to the dance floor. Kids love weddings and they make the cutest pictures.

How did you know your dress was the one?
I chose my dress because it is classic and simple, but still has some interesting details like the double straps and the layered tulle skirt.

Tell us about your dress shopping experience.
I live in Minneapolis, but my mom and I traveled to Dallas to pick out my dress so that an aunt who wasn't able to travel to the wedding could take part in some of the festivities. I first reached out to stylist Laurie Dyess—whom several people in my family, including me—have been working with for a long time to see if Nordstrom would have dresses in my budget. She sent me some ideas from the website and then connected me with the amazingly talented Silvia Rodriguez in the Wedding Suite. I can't say enough good things about my Nordstrom Wedding Suite experience. The whole team worked together to make it a stress-free experience, from picking out the dress to picking out accessories to the final fitting. Silvia really listened to what I was looking for and did a great job pulling dresses that fit my style and budget. Importantly, she only showed me dresses that could be ordered and tailored in time for the wedding four months away.

What kind of shoes did you wear?
I had the Badgley Mischka d'Orsay shoes for walking down the aisle, then switched to the sparkly silver Sam Edelman Felicia Flat for the reception.
Any advice for brides-to-be?
Wedding planning sort of expands to fit the time in which you have to do it. We spent less than six months planning our wedding, everything turned out fabulous and we have zero regrets about not having more time to fret about more of the details.
Also, don't be the only person who knows how all the pieces fit together. Write everything down in one place—timeline, vendor phone numbers, et cetera—and then give it to one or two people you trust to be in charge of making sure everything goes smoothly on the wedding day.
Where was the honeymoon?
We just road-tripped through Vermont, New Hampshire and Maine. We loved seeing all the fall foliage and basically ate our weight in fresh seafood. Our favorite things were staying in an oceanside cottage near Winter Harbor, hiking in Acadia National Park and enjoying the incredible food scene that Portland, Maine, has to offer.
Photography by Becca Dilley.
Did you find your wedding gown or bridesmaid dresses at Nordstrom? We love a good wedding story! Email Nordstrom Wedding Stories for details on getting your wedding featured on our site. And for more inspiration, make a complimentary appointment with a Wedding Stylist or browse our Wedding Suite.