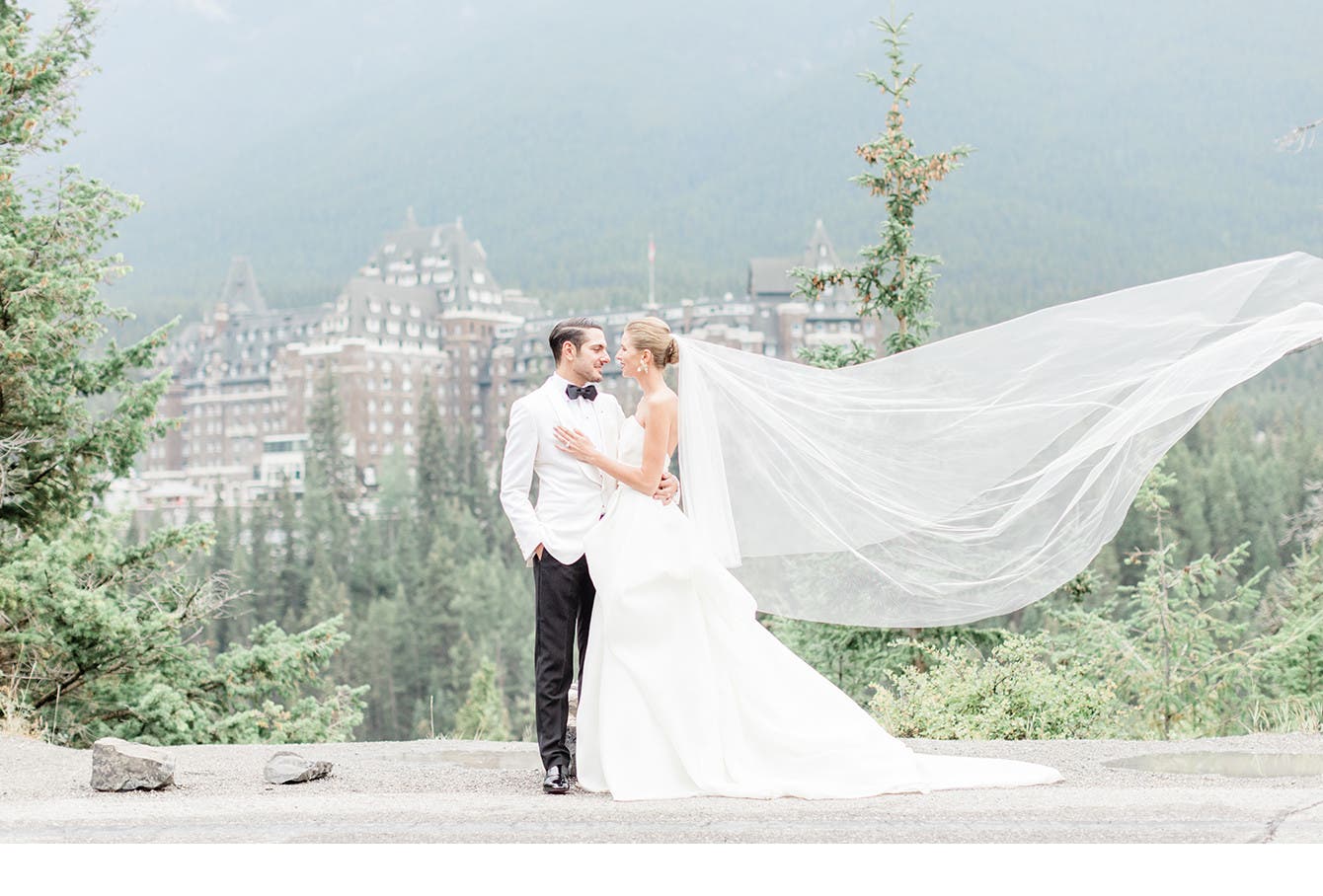 Real Weddings: Holly & Abraham
At a castle nestled in the Canadian wilderness, Holly and Abraham said "I do" surrounded by their family and closest friends.
By Tessa Trudeau

Holly, tell us about the location.
We were married at the Fairmont Banff Springs Hotel, a historic castle built in 1886 within Banff National Park in Canada. We knew we wanted a destination wedding from the get-go, and since guests were coming from all over we wanted it to be somewhere friends and family could spend the whole weekend adventuring and bonding. Banff truly had something for everyone.
What was the inspiration?
Our decor reflected our combined personal styles. We both favor a neutral color palette in dressing and home decor, but Abraham likes to incorporate fun elements like animals and brass.
Some of our favorite elements were the custom pink neon sign and handmade animal place card holders. I also worked with our florist to create fun and exotic centerpieces that incorporated white orchids, Monstera, Italian Ruscus and palm leaves. We also bottled olive oil from Abraham's family orchard in Lebanon to send home with guests as gifts.
Tell us about your favorite moment.
Abraham and I didn't have a first look, so the first time we saw each other was as I came down the aisle. He was crying, I was crying, our families were crying—everyone was crying!
My other favorite moment was surprising him and his family with a Lebanese zaffe performance. Abraham's culture is really important to him, and it's nearly impossible to find a traditional dance group in the states or Canada. When they entered the reception, everyone was so excited. For a lot of his family members, this was the first time seeing a performance of that kind outside of the Middle East and a lot them had really emotional reactions.
How did you know your dress was the one?
My main dress, the Monique Lhuillier "Emerson," was the first dress I tried on. I didn't think I would ever end up with a ball gown, so I thought it would break the ice to try on a totally over-the-top style—for me—first. After trying on the Emerson, I was bored by all of the other sleek styles I had selected.
My second dress, the Vera Wang "Manuela," [available in selected Nordstrom stores] was a much more natural choice for me. I loved the sleek body of the gown with the contrasting torn-and-cinched tulle around the skirt. It felt very grunge-ballerina, which I loved.
The most impressive part of my Wedding Suite experience was the amazing service I received from my tailor in alterations. She was so invested throughout the process and completely committed to making all of my gowns fit absolutely perfectly. At my last fitting, we were both so happy and she sent me off with a big hug. It was like having a mom in the dressing room every step of the way.
Nordstrom also helped with my Katie May bridesmaid dresses, Abraham's black tux, my mom's dress and many other details.

Any advice for brides-to-be?
If you're having a destination wedding, really take advantage of having all of your favorite people in one place for a whole weekend! Our rehearsal dinner the night before was really more of a pre-pre-party. We booked out an amazing bowling alley, hired a DJ and spent the night dancing and playing games. It was a great setting for all of our family and friends to get to know one another before the big day. By the end of the weekend, all of our guests had become BFFs. We still crack up when we see our coworkers and friends interacting with our aunts and uncles on Facebook.
Where was the honeymoon?
We left for a mini-moon in Mexico straight from Calgary. A second wedding in the Greek Orthodox Church will take place this year in Lebanon, followed by a honeymoon that has yet to be decided upon. We're thinking Africa or Singapore!