How midcentury design inspired Brett Heyman's equally vibrant handbag business and Manhattan apartment.
Fall 2019 isn't about the munchies. Brett Heyman, the founder of the acrylic-handbag line Edie Parker, insists. "That was definitely not what I was thinking," she laughs. "I love carbs, and I was thinking about things that you would have at your basement party in the '70s." This season, her colorful and charming box clutches have inlaid pretzels and croissants—in addition to pot leaves and mushrooms. "It's not that literal," she says.
Yet, it is. One of the Bakelite-looking bags actually says "Baked." "We love a double entrendre," Heyman says. "Baked just means we love baked goods!"
And Heyman's clutches have fun baked into them. Her shiny designs come with playful patterns, personalizations and clever puns beloved by stars on the red carpet. "I get most excited when celebrities wear personalized ones that have meaning," Heyman says. "The first year that Stranger Things came on the air, we made a bag for Millie Bobby Brown that said 'Millie' and the Ls were [the number] 11—she wore that to the Emmys. Julia Louis-Dreyfus, who is a personal favorite, wore a bag that said 'Veep' to another event," Heyman says. "She did a bit with Tony Hale where he followed her on stage and held her bag." Although her bags are usually described as "evening bags" and carried to awards shows, Heyman doesn't see her designs as necessarily formal and feels they go just as well with jeans.
Heyman grew up in Los Angeles, where she scoured the markets for vintage finds. "Every weekend from the time I was 13, I would have my mom drop me off on Melrose," she says. "I got all kinds of stuff like handbags, jewelry, clothes, everything. Frankly, in hindsight, it feels like it was hoarding." But she was partial to women's evening bags from the '50s and '60s. "As I got older and moved to New York, obviously I didn't have enough space for everything. I got rid of all that stuff, but I always kept the bags, and any time I wore the vintage acrylic ones, people would always comment on them."
In 2009, just after having her first child, Heyman decided it was time to venture out from fashion PR—she had worked for Gucci and Dolce&Gabbana—into something more creative. "I had made a human, and I figured, 'How hard could a handbag be?' " she quips. She studied up on midcentury accessories, becoming fascinated by the Lucite works of Wilardy. "I just loved midcentury everything at the time. You know, it was like I was collecting midcentury furniture and I loved reading about midcentury style."
That same midcentury aesthetic appears in Heyman's stunning Manhattan apartment in a 1912 building. Her penchant for bold design and clean lines translates to sleek furniture and a bright color palette. "I really don't put that much energy into my apartment, so I can't talk about it as passionately as I do my bags or children [Edie, 10; Oscar, eight; and Teddy, three] or anything else like that," Heyman says. " I think that if something makes you smile or you want to live with it, then you'll find a place for it. I don't think everything's perfect in the space by any means, but it has the purpose of making us happy—then we'll find a function for it."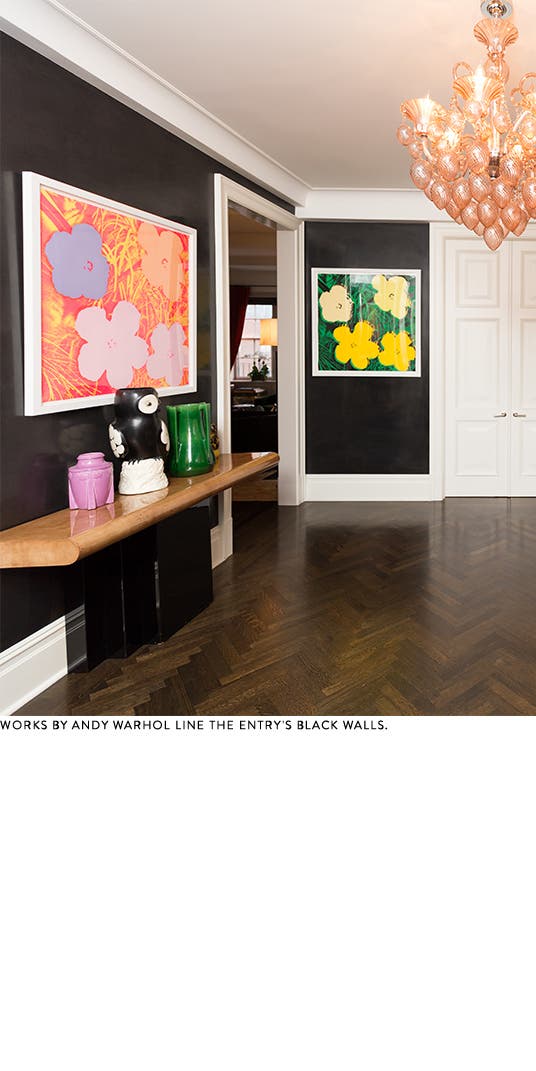 "The hallway is black plaster. It's pretty cool; it's very dramatic. I just really like color, and I guess I was in a dark mood when I repainted some of these rooms. I don't have a fear of making mistakes about things; I feel like everything is kind of ephemeral, if you will, like hair color is the same. If it doesn't work, you can repaint it in a few years."
"My husband actually bought [the artwork] as a single man. I mean, this was in the '90s, and he saw a Warhol in some auction catalog and really wanted one. Somehow the guy convinced him that 10 would be better than one, and I think he just ended up with a collection. He'd never bought art before, or after. But he loved them, and he just really always wanted them in one room like they're a garden, so they're in the foyer. They really are special."