"Work for somebody else for a while so you see how the sausage is made," says Shirley Cook of the advice she'd give someone hoping to break into the fashion industry. As the former CEO of Proenza Schouler, she has been there herself. "I was very fortunate to be exposed to and work alongside a group of very talented people who were very strong in each of their fields—it was like an amazing master class."
Cook, who is based in Argentina, New York and Italy ("my partner makes wine in both countries, so we are a bit nomadic," she tells us), is now onto something new. Having left Proenza four years ago, the designer is taking everything she learned throughout her 15-year tenure there and starting her own venture: Dyvna, a line of contemporary, beautifully printed dresses that serve to fill an empty spot in her personal wardrobe. "I noticed that everything I liked basically was $2,000 and above, and if you weren't willing to spend that much money on a dress, your options were limited to a certain extent," she says. "I found that the prints were not wonderful and the fit of things wasn't great and the fabrics didn't feel lovely, and from my experience, I understood that it doesn't cost more to have nice prints. It doesn't cost more to do things well and pay attention to detail. So, I got together a small team of people who all had worked at the designer level," Cook says, and she made it happen.
What does Dyvna mean?
It's my grandmother's name—Dyvna Luboric. My grandmother had a beautiful name, was a beautiful woman and played a large part in my childhood. She was my playmate and best friend and the only person with whom I would speak Serbo-Croatian. Dyvna was from Belgrade, Serbia, and left after the war to start a new life in the United States. She was an incredibly strong woman who carried herself with grace and elegance.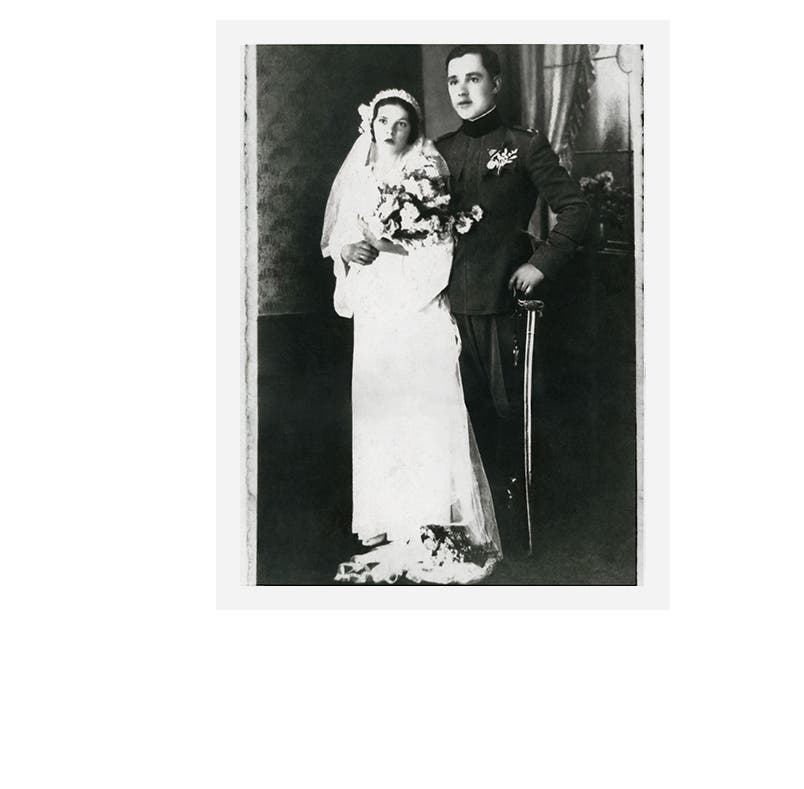 Cook's grandmother Dyvna and grandfather Petko on their wedding day.

You were with Proenza Schouler for 15 years. What's something you learned there?
Hard work and determination and talent and hunger are all very important. That is the heart to success.
Who is the woman you're designing for?
Specifically, I'm designing for myself, so this came out of a selfish position. I was like, "I want these things, but I can't find them." You travel, you have family responsibilities, you have social responsibilities and life is hectic. I'm now a mom, I'm starting a new career, so to not have to think about it and be like, "Great, I can put this dress on in the morning, take my child to school, go to meetings, and then, you know, put on lipstick or put on heels or whatever and go out to dinner in the evening" is amazing—that it can go through the whole day with you, and you feel appropriate every step of the way.
How would you describe the dresses?
They're multifunctional. The line is made for women who are realistic. These are dresses you can wear on vacation with sandals. You can wear them to the office with a blazer or a sweater in heels or boots. The silhouettes are … I don't want to say classic, but they're not trendy, and they'll last forever. It's not going to be an asymmetric one-shoulder piece; it's not that kind of collection. It's more classical styles that can carry from year to year, so you're not going to feel like your piece can't be worn for another season.
What details were put into consideration when designing the collection?
One of my biggest pet peeves is when you're wearing a button-front dress and standing up, the dress fits perfectly, but when you sit down, the buttons pull. So, we put the zipper behind the buttons so that you're always tucked in and when you sit down, there is no pull on the buttons, and you look just as nice as you did when you were standing.
All the buttons are custom made. All the prints are custom designed—we have an amazing print designer who is so talented, and each of the prints are specific to Dyvna. You won't find them anywhere else. And oh! The other thing is all the dresses have pockets in them. It's funny because every time I say that, women are like, "I love pockets!"

How would you describe your style in a few words?
Classic, but fun.
How do you want women to feel when they're wearing a Dyvna dress?
I want you to feel really confident in yourself, in your ability. I want your poise to allow you to express what's on your mind more clearly. The idea is that you're not worrying about what you're wearing, that you're able to do what you need to do with even more confidence.
Do you have a favorite accessory?
I have two favorite accessories: the emerald necklace my other half gave to me, which replaced my stolen engagement ring, and the gold necklace bearing the initials of our son—Rio Moses Lodovico. This was also a gift from my fiancé upon Rio's birth in 2019 and is the same necklace the models are wearing in the campaign images. Dyvna is an incredibly personal project to me, so it made perfect sense that I would include a bit of my new family in my new company. I guess I gave birth to two babies this last year!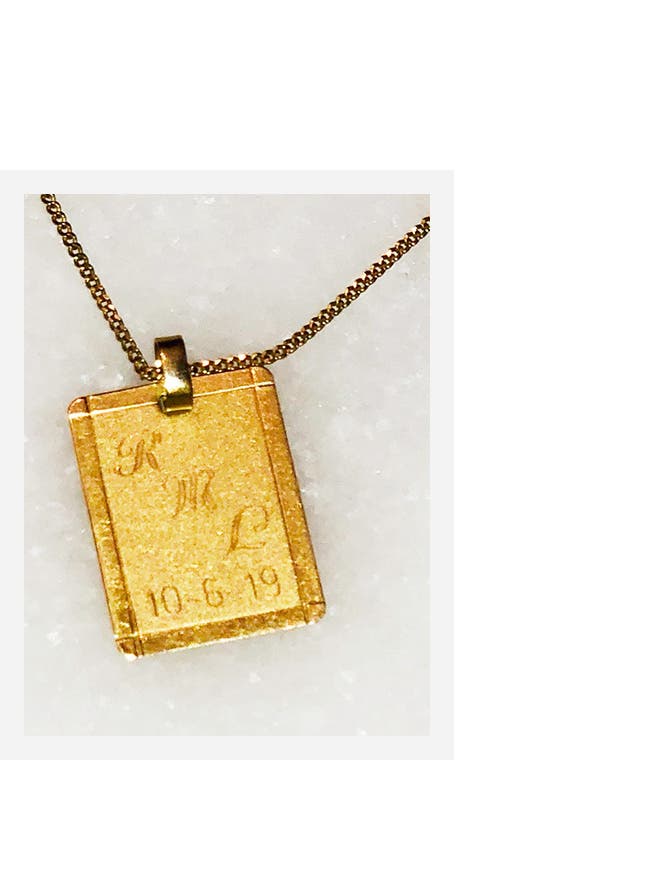 The special necklace given to Cook by her fiancé features the initials of their son.
Where do you find inspiration?
It comes from everywhere. It comes from my travels. It comes from museums. It comes from stuff I find on Instagram, stuff that I see in auctions—little pieces of textiles or things I find on eBay. I just saw a nice plaid when I was in Spain. Somebody walked by, and I took a picture of her. It's all kinds of things and it can come from anywhere, but I think what really makes me feel inspired by these things is that they're not items you are overexposed to.
What is your ultimate dream for Dyvna?
I'd love for every woman to look at the collection and find something in it for them.