WANDLER'S SLEEK, FUNCTIONAL BAGS WERE DESIGNED FOR LIFE IN THE BIKE LANE—AND BEYOND.
By Britt Burritt

Elza Wandler admits to carrying too much in her handbags. So, it's a good thing her geometric luxury leatherware favors functionality. The young Amsterdam-based designer and founder of Wandler rocketed into the fashion sphere in 2017. Within just two years of launching her line, her bright, minimalist styles (especially the horseshoe-shaped Hortensia bag) have been sought out by fashion editors, stylists and pop stars. But she takes the It bag title and praise in stride, as she does most things. "If you manage to receive that label, it's a great compliment. But I see Wandler bags as appealing both to customers who want timeless bags and, on the other hand, those who are looking for the latest trends and brands. Women choose a Wandler bag for that something new to add a little statement to their everyday dressing."

Why did you want to start a handbag line?
Bags have always been something I found super interesting. They are like little sculptures; the form is quite free to explore. I always knew I wanted to do something for myself, create my own world, and I wanted to design bags that have a maturity around them, with a certain luxury appeal attached to them that you don't see with many bag brands. I felt there weren't a lot of brands out there that offered bags with a fine balance of clean yet bold designs. I find it really interesting to play with the tension between super feminine and clean androgynous designs.

What were you doing before Wandler?
I enrolled in the fashion and branding course at Amsterdam Fashion Institute in 2009, which gave me a solid foundation in finding the right balance between creative design and commerce. There I learned that the business doesn't stop after you make a product. There is a lot that comes with it like branding, image-making and social media. After completing the BA in 2012, I took a job as designer for Levi's premium Made & Crafted women's line. I learned how the merchandising, design and sales teams worked closely together. It was great for researching materials and manufacturers, so when I started Wandler I was fully prepared.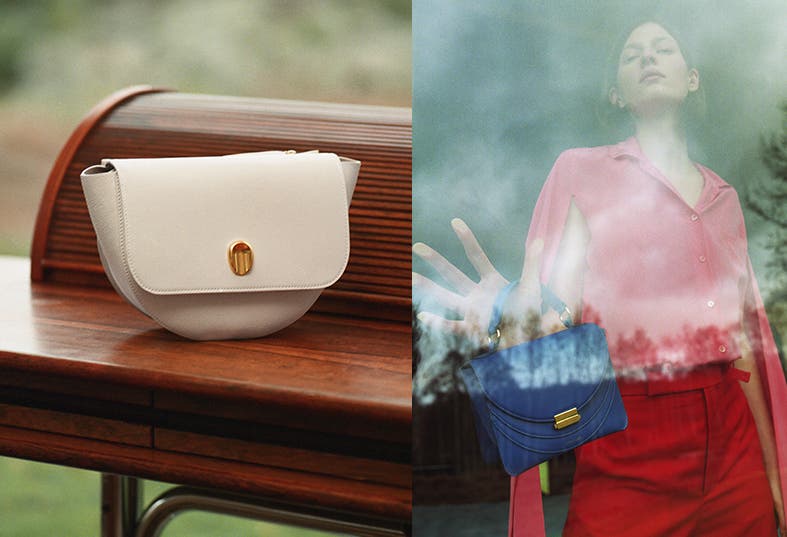 Tell us about what inspired the popular Hortensia shape.
I always try to create designs that complement a woman's look by combining functional relevance with elegance. With the Hortensia, I wanted to find that perfect balance between an uber-feminine and clean androgynous shape. I decided to go for the trapeze structure because I wanted the Hortensia to be a bag with clean lines yet showing a softness to it. And a bag that goes with everything.

What is new for summer?
Super excited about this season's fun new styles: the minis! Make sure to check out the Luna Mini Bag in Royal Blue and Foam.

Where do your seasonal palettes and combos come from? How do you choose which colors you'll release?
I like looking at art to get my color inspiration. I also love going through interior color cards. For example, this collection was inspired by our recent home renovation. My personal house project was mainly driven by the richness of '60s and '70s vintage interior, especially leather sofas from that period. To really highlight the leather textures, I went for colors like Syrup, Foam and Fudge, which also give that vintage-modern edge to the designs.

Is there anything that you view as distinctly Dutch about your designs or process?
Perhaps the straightforward way of how I design? I like to work with pieces of paper, fold them into shapes and play around with it. Also maybe how I'm always thinking about the function of each design—and whether I can easily take it with me on the bike! Like any Amsterdam local, I get around the city by bike. To have a bag which is super practical makes my life on bike less complicated. When creating a new bag, in addition to dynamic use of colors, premium quality and modern femininity, I prioritize the product design to have a high functional use to it.

What handbag do you personally carry for the day? Do you switch it out at night?
At the moment I'm super into the Billy Bag Croco Night. It's a great size bag as a day-to-night bag. During the day it's a perfect crossbody. Taking it straight into evening mode, I like to carry it in my hand for that casual look. My favorite on-the-go daywear bag is the Mia Tote as it's so roomy. I then swap it for a Luna Mini Bag at night.


Who have you been most excited to see carry a Wandler creation?
Lady Gaga!

Wandler is available in Downtown Seattle, Downtown Portland, Michigan Avenue, Scottsdale Fashion Square and San Francisco Centre Nordstrom stores.