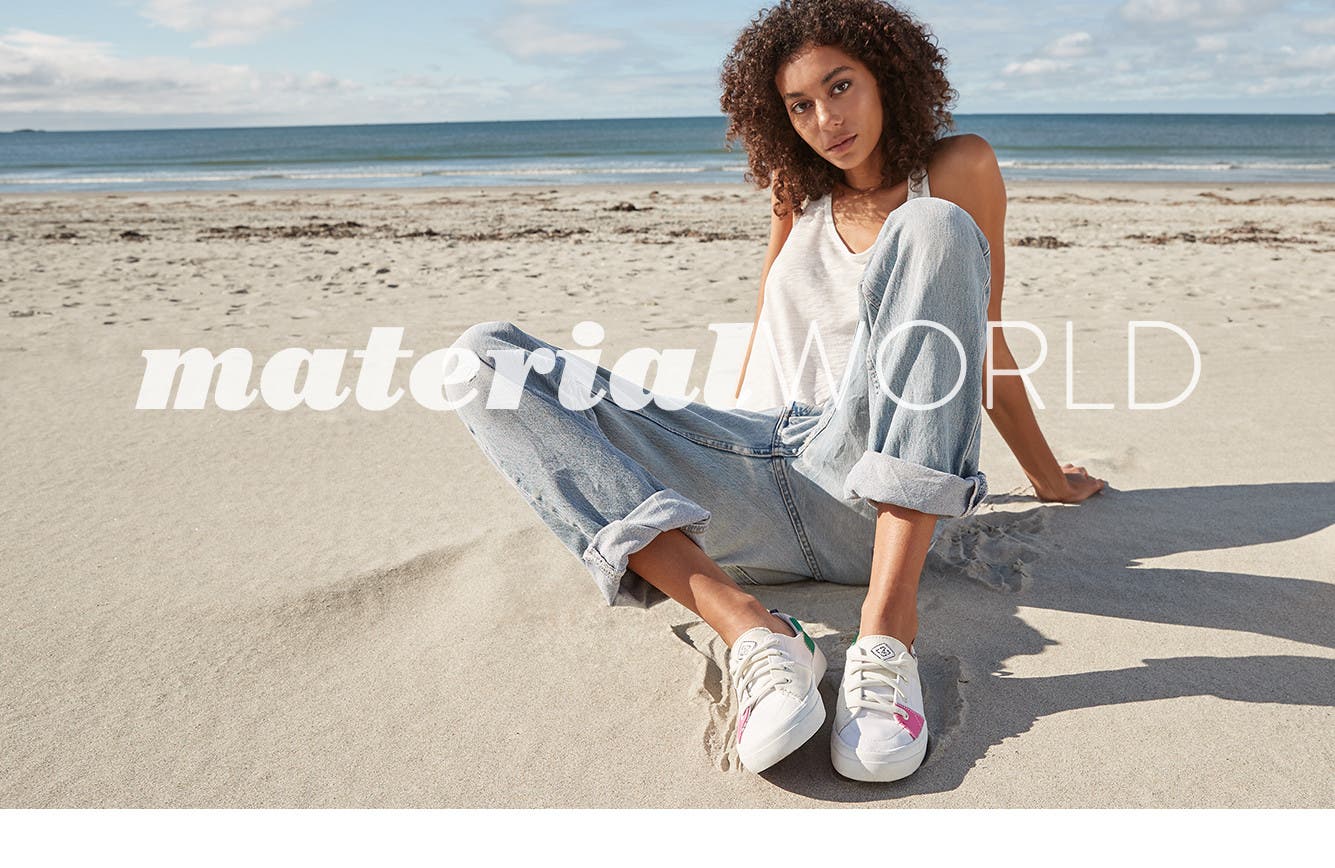 These six brands are upping their sustainability with innovative textiles that are changing the fashion industry—and the world.
By Tessa Trudeau
Leggings made from plastic bottles, sneakers crafted from corn waste, dresses sewn in renewable eucalyptus fibers—the greening of fashion is getting creative, as more and more brands play not just with their designs but with their fabrications.
This Earth Day, we're highlighting six brands protecting the planet by using revolutionary new materials that might change the way we dress for years to come.
Launched a decade ago, this Los Angeles-based cult favorite was at the helm of the sustainability movement before many others jumped on board. A big part of Reformation's many eco-conscious efforts comes down to its textiles. "We work closely with mills to develop fabrics made from fibers that have a much lighter environmental footprint when compared with conventional cotton or polyester," says Yael Aflalo, founder and CEO. Some of these materials include Tencel™ lyocell, developed by Austrian company Lenzing and made from fast-growing eucalyptus trees; responsibly sourced viscose; recycled cotton and cashmere; and Recover yarns—fibers made from old clothes and fabric waste.
"In 2018, Reformation saved 8,474 metric tons of CO2, 455 million gallons of water and 344 metric tons of waste," says Aflalo. "As we grow, our goal is to push to create more sustainable textile options, as well as make our current fabrics even more environmentally conscious."
The activewear company made headlines in 2016 when it let consumers try its new recycled-plastic leggings for free. Girlfriend Collective has since expanded to include bras, tops, shorts and bodysuits made from post-consumer water bottles, fishing nets and other ocean waste. The brand's Compressive leggings divert 25 water bottles from landfills, the bike shorts 17, and the bras 11, so consumers can feel good knowing exactly how many bottles they're wearing.
Sourced from Taiwan, the bottles are cleaned, sorted and processed into tiny chips, which eventually get spun into threads that form their polyester yarn. "A lot of people don't realize that almost all synthetic fabrics—like polyester and nylon—are made from plastic," explains Girlfriend Collective cofounder Quang Dinh. "We just make ours from materials that would otherwise pollute our planet or clog landfills."
Sustainability has been at the core of this French shoe brand's mission since it launched in 2005. Veja uses organic, agroecological and fair-trade cotton for sneaker canvas and recycled plastic bottles to construct mesh for its sneakers, which are produced in Brazil. Plus, the soles are made from wild rubber from the Amazon—the only place in the world where rubber trees grow naturally. The wild rubber industry in Amazonia prevents deforestation while providing a livelihood for local harvesters.
This year, the company will launch new styles created with C.W.L., a waxed canvas made of 50 percent corn waste discarded in the food industry. It's biodegradable and has the look and feel of leather.
The denim manufacturer is another brand using renewable botanicals to produce fibers, such as Tencel modal, another Lenzing product made from beechwood, and Refibra, a material made of upcycled cotton scraps combined with wood pulp. These fabrics are not only innovative in source but they also help cut back on one of our most precious resources: water. "Through the combination of these fibers and the right machinery and production methods, we're able to minimize the final environmental impact when compared to the traditional pair of jeans," says Zahra Ahmed, vice president of marketing at DL1961.
In 2018, the company saved enough water to fill 400 million 16-ounce water bottles. "By pairing eco-friendly, renewably sourced fibers with high-quality, long-staple cotton, the base of the jean is primed to reduce water consumption in later processes," Ahmed explains.
The New York-based brand's name stands for "A Mindful Use of Resources," so sustainability is at its forefront—especially when it comes to textiles. The line offers colorful prints, playful textures and unique silhouettes you may not suspect of being eco-friendly. "AMUR is motivated by a global vision that fashion can have a positive impact on the future," says president and CEO Mitchell Hops.
The company uses fabrics from three different categories: natural fibers, which include hemp, silk, linen and certified organic cotton; regenerated fibers, such as recycled polyester diverted from landfills; and cellulosic fibers like cupro, a soft, silky yarn spun from reclaimed cotton linter—the short fibers around the cotton that are normally discarded during cotton production. "AMUR believes that nature is the ultimate luxury, and that good design does not have to come at the expense of the environment," Hops tells us.
The classic boat-shoe company has launched a line of styles designed with plastic recovered from marine and coastal environments. Made in partnership with eco-engineering firm BIONIC®, each pair uses an average of five plastic bottles. Sperry's goal is to remove and reuse 125,000 bottles with this one collection.
The line, which includes the iconic Authentic Original loafer and the Crest Vibe sneaker, is part of a larger, ongoing sustainability platform called "Look Good. Do Good." In partnership with Waterkeeper Alliance and BIONIC, Sperry will continue this mission by sponsoring beach cleanups and raising awareness around the issue of ocean pollution.