Caring For Your Clothes
Caring For Your Clothes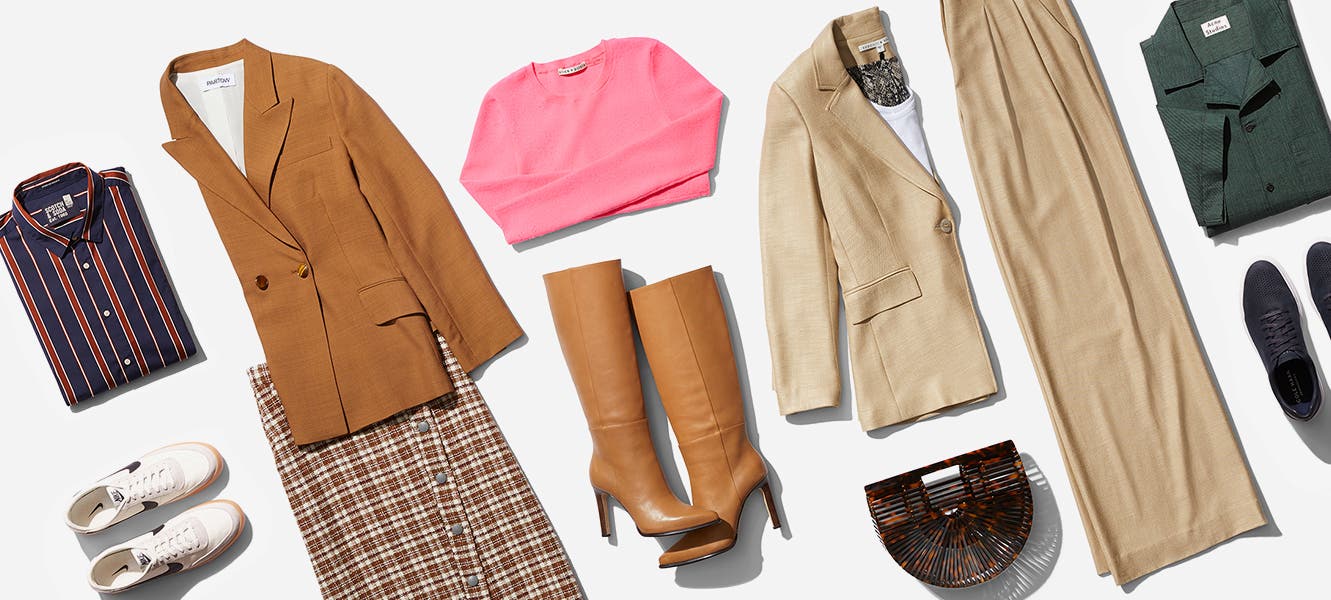 Caring for Your Clothes
Taking great care of the clothes you already have is an easy first step toward sustainable fashion.
Many of the environmental impacts of a piece of clothing come from the materials it's made of and how it was manufactured. According to research by WRAP UK, by using a garment for nine more months—rather than buying something new—you can reduce its carbon, water and waste footprints by around 20-30% each.
And keeping your clothes looking great will make you want to reach for them again and again. By caring for them gently, you can prevent fading, stretching and shrinking, and reduce your own environmental footprint in the process.
Wash Less
It may seem obvious, but just skip the wash when things aren't dirty yet. Hang an item back up and let it air out before rewearing, or consider spot cleaning if needed.
Wash on Cold
Many clothing items call for cold water in the wash. Washing on cold is a great idea for several reasons. According to ENERGY STAR, about 90% of the energy used by washing machines during laundry is just to heat the water. Switching from hot water to cold will save you money on your energy bill and reduce your carbon footprint while helping to prevent your clothes from fading or shrinking.
Filter for Microfibers
Microfibers are tiny plastic bits that shed from synthetic materials every time they're washed. Synthetic fibers include polyester, nylon, rayon, acrylic and spandex, among others—even when made from recycled materials. Globally, research on microfiber pollution is still developing, but we know microfibers are making their way from our washing machines through our water sources and into our oceans. You can filter for microfibers with every wash using filters from brands like Cora Ball and Guppyfriend. You can also check out permanent washing machine filters.
Hang to Dry
Have you ever tumble-dried your jeans and found that they're a bit tight afterward? When possible, skip the dryer. Air-drying your clothes on a drying rack or a line will again prevent fading and shrinking, in addition to further reducing your energy use and carbon footprint. If you do use a dryer, consider using dryer balls to speed up the drying cycle.
We recommend to always check an item's garment care label for the best results. Some common materials, like items with stretch, will actually break down in the heat of the dryer—even more reason to skip it.
Mend & Repair
Did you know that Nordstrom is the largest employer of tailors in North America? If you aren't ready to repair your clothes at home, our Alterations experts can fix zippers, close popped seams, mend holes and more.
Try Alterations & Tailoring
The most expensive item in your closet is anything you never wear. If you find that an item isn't fitting quite right, bring it in for advice from our experts. From hems to pockets to custom needs, our Alterations experts can help.
Need Specific Advice?
For specific tips like how to keep your whites bright, care for delicate materials like cashmere and silk, and keep leather in great condition, check out Nordstrom Trunk Club's Caring for Clothing Guide.
You can also check out the Cost-Per-Wear Calculator to help you choose wisely and make a plan to wear what you love for even longer.